Head start: Six free soccer betting tips for this weekend
Always gamble responsibly and within your means. If you are in doubt, contact the free Responsible Gambling counselling line, 0800 006 008 or WhatsApp/SMS HELP To 076 675 0710 helpline@responsiblegambling.org.za in South Africa.
This is the best way to get fired up for the weekend: We've had a look at the best value odds and compiled what we believe is a winning formula. Our free soccer betting tips are here to help bring home the bacon over the next couple of days – and give the bookies a nightmare in the process.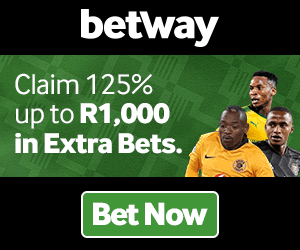 And if you're looking for the best deals, you can get them here with Betway.
With our "Head Start" column – trust me, we've had a lot of fun with my surname over the years – we are putting together the bets that make logical sense, rather than the ones that are based on emotion. As we always say, bet with your head and not your heart… Let's get cracking!
(If you need an explainer on decimal odds and how they work, click here)
Best betting tips for English soccer on Saturday 16 March
The four-fold
Wolverhampton Wanderers vs Manchester United
Rotherham United vs Norwich City
Exeter City vs Colchester United
Forest Green Rovers vs Carlise United
Total value: 16.14 – a R100 bet would win your R1 614 back.
One defeat doesn't mean Ole has let go of the wheel at Manchester United. Wolves are a solid outfit, but the Red Devils possess the most quality. Elsewhere, it'd be stupid not to back Championship table-toppers Norwich away at Rotherham, who are in the bottom three. Exeter have a good home record and Forest Green are looking trustworthy.
The long shot
Burnley vs Leicester City
Sheffield Wednesday vs Blackburn
Aston Villa vs Middlesbrough
Luton Town vs Gillingham
Yeovil Town vs Macclesfield Town
Total value: 44.00 – a R100 bet would win your R4 400 back.
Five home teams – four of whom are favourites – doesn't sound like a long shot. But we're hinging our hopes on Burnley. They've turned over some top teams at home this year, and Leicester haven't been firing on all cylinders.
Wednesday are making a late, late charge to the top six alongside Aston Villa: Both have momentum, and face teams who have been stalling lately. Luton are flying in League One, and Yeovil should just about squeeze a victory out of their relegation clash with Macclesfield.
Both teams to score
Bournemouth vs Newcastle United
Aston Villa vs Middlesbrough
Brentford vs West Bromwich Albion
Peterborough United vs Coventry City
Oxford United vs Bradford City
Notts County vs Morecambe
Total value: 27.69 – a R100 bet would win your R2 769 back.
Betting tips: Best individual bet
West Ham to beat Huddersfield Town by three goals or more
Total value: 4.96 – a R101 bet would win your R500 back.
Nothing fancy or flashy here. Nothing that will put a Ferrari in your garage, or get you an early retirement. But we're backing the Hammers to stuff Huddersfield Town, who've nothing left to play for: They're going down, and they've at least surpassed the worst points total in Premier League history (11, set by a woeful Derby County side).
FA Cup tip of the weekend
Watford to beat Crystal Palace & Brighton to beat Millwall (both teams to score)
Total value: 22.22 – a R100 bet would win your R2 220 back.
Two teams to win and their opponents to score. It's a basic formula, but one that looks almost unquestionable ahead of this FA Cup weekend. Watford have hit a rich vein of form, whereas Palace are stumbling. Millwall are in free-fall in the Championship, and Brighton have got a little confidence back over the past few weeks.
Betting tips for the Premier Soccer League for Friday 15, Saturday 16 and Sunday 17 March
Cape Town City to WIN against Polokwane City.
Free State Stars to DRAW with Amazulu.
SuperSport United to DRAW OR WIN against Kaizer Chiefs.
Chippa United to DRAW with Highlands Park.
Total value: 20.41 – a R100 bet would win your R2 041 back.
We're getting technical here, so stay with us. The first two results are easy enough explained – City are in the form of their life, and Free State Stars look like they'll just do enough to hold Amazulu. But we want an insurance policy for our Saturday game…
We don't think Chiefs have got it in them to go and beat SuperSport. But we're not 100% convinced they'll lose. Backing the home side to avoid defeat makes the most sense to us, and adds great value to the PSL four-fold. Elsewhere, we think draw specialists Highlands Park will do what they do best, and collect another point on their travels.
You can bet here with Betway – all odds and prices for our betting tips were provided by them.
The post Head start: Six free soccer betting tips for this weekend appeared first on The South African.